Day 04 At Epcot (again)
Epcot had so much to do for all ages that we had to make it a two (2) day visit. On our first day we focused mainly in Sea exploring all its' attractions since it was really the only area our two year old could do everything. On our second day we focused on meeting all the characters, tasting our way through the countries and enjoying the no wait attractions. Believe it or not, just tasting your way through each of the countries and meeting all the characters takes up a bulk of your day. The absolute best thing about Epcot is how grown the park is, but there's so much to occupy all the younger ages so the adults can enjoy themselves. For the sake of sharing Epcot for what Epcot exhibits and not it's 'ride feature', I'll get the Fast Pass suggestions out of the way first by saying; Test Track, Mission Space & Soarin'. I strongly felt the experience of learning and traveling was more exciting than any of the rides. Whether I was exploring Dinosaurs in Ellens (dated) ride; following the dolphins around the aquarium in Seas; or enjoying an AMAZING arepa at Botanas Botanico while waiting for Belle. There was always something to do, always something to see and always something to eat. And that's what makes Epcot so great for an entire family to enjoy together. Epcot is a true family park. As soon as you walk into the park it's essential to grab the park guide and map your route. I feel it's in your best interest to attack everything outside of Showcase Plaza, then from lunch on you work your way around the World Showcase, taking in the sites and snacks.
What to expect in Future World? Walt's vision of science and the future capitalized in experiments and exploration. You can view the world from the sky, from the sea or the magnifying lens of a microscope. You might not be someone who really likes science; and you might even find it boooooring, but I'm certain you'll walk away from your adventure with at least ONE thing you can tell someone you now know. Even if it is from a ride you were on.
What To See (that's not a ride):
– Innoventions
– The Aquarium at Sea
– Advanced Training Lab @ Mission Space
Once you cross over Showcase Plaza and into the World Showcase it becomes an adventure you can't time or predict. Some people are German people, some people like to spend most of their time in Japan. My family enjoyed meeting each of the princesses in each country while snacking every where you went. You might have a dream, just to hang out in France. This part of your visit ultimately depends on the person.

My World Showcase Suggestions:
– Mexico: Margaritas for adults or a great photo opportunity in front of Mayan architecture.
– Norway: This was all being converted to Arendale, a land of Frozen, so not much was actually open on our visit.
– China: Fresh peach tea
– German: The Beergarten for adults or the AWESOME CARMEL CANDY SHOP!!
– Italy: Grab a slice of pizza (which actually isn't Italian) and snap some photos in front of traditional Venice architecture.
– The American Adventure: We skipped right by…only because we're Americans.
– Japan: This was by far one of my favorites. Their bizarre treats, the traditional monuments, traditional Japanese items to buy and FRESH SUSHI!
– Morocco: White Tortilla Arepas from Botanas Botanico.
– France: Besides visiting Belle, we only tried the Crepes, which were ok. This was more of a resting country.
– United Kingdom: Head back to Toy Soldier and check out the Beatles merch 😉 They also have really cool English cover bands that play on a schedule. And of coarse grab some fish and chips on the way out.
– Canada: CRONUTS, CRONUTS, CRONUTS!!!!!
Disney did an awesome job at paying extra close attention to the details of enriching your experience through each country you attend. The merge between each country is seamless. Epcot boasts an awesome day to just travel and explore. No long lines; no fancy rides. It's a day that the family can just walk together and share the sites, the sounds and the journey! I hope you guys take the time to allow Epcot to take you in without you rejecting what it has to offer. Nobody is too cool for this-

My Final Tips:
– Want to keep you kids (5 years and older) occupied, make sure you stop by Phineas and Ferb's Agent P's World Showcase Adventure. You'll find yourself on a scavenger hunt, running all throughtout the park chasing clues in hopes you can defeat Dr. Doofenshmirtz.
– DO NOT buy the official Epcot passport if your you're not interested in buy a $17 souvenir. You can get a free promotional one at guest services that actually highlights what you should try in each country. They both have the same pages that the kids get stamped and their special treats in each country.
– In your first country, have your children do the Duffy Arts & Crafts. At each country, color in one part of Duffy and move on. It gives your travels a little more excitement.
– DO NOT waste your FastPass on the IllumiNations. Nearly ALL the spots around the World Showcase are great for viewing. You'll just spend a little more time exiting the park.
– ALL SNACK STANDS EXCEPT YOU SNACKS ON THE MEAL PLANS! So if you can spare a couple nights and have your kids share the popcorn, you'll have plenty saved up for some extra snacks!
– Depending on WHEN you go, pack plenty of water. There's a lot of walking and not enough shade.
– Try the snack/drink challenge on all the free passports. I promise it makes your vacation that much more enjoyable….full, but enjoyable. You learn a lot about the culture just by taking in their foods/drinks.
– If you eat at The Coral Reef, you'll have a better chance of receiving a seat on the glass of the aquarium if you request it, or show up earlier than your reservation and expect to wait.
Make sure to catch up on all our latest Walt Disney Wednesday posts:
13- Walt Disney Wednesday (Animal Kingdom)
12- Walt Disney Wednesday's (Typhoon Lagoon and Epcot)
11- Walt Disney Wednesdays (Hollywood Studios)
10- Walt Disney Wednesday (How Much Disney May Cost You?)
9 – Walt Disney Wednesdays (Disney Live)
8 – Walt Disney World Countdown Begins

7 – Walt Disney World Experience App
6 – Walt Disney Wednesdays (Traveling)
5 – Walt Disney World (Let's Reserve Your Memories)
4 – Walt Disney Wednesday's (Dining)

3 – Walt Disney Wednesday's (Park)
2 – Walt Disney Wednesday (Resorts)
1 – Walt Disney Wednesday (Planning Our Family Vacation)/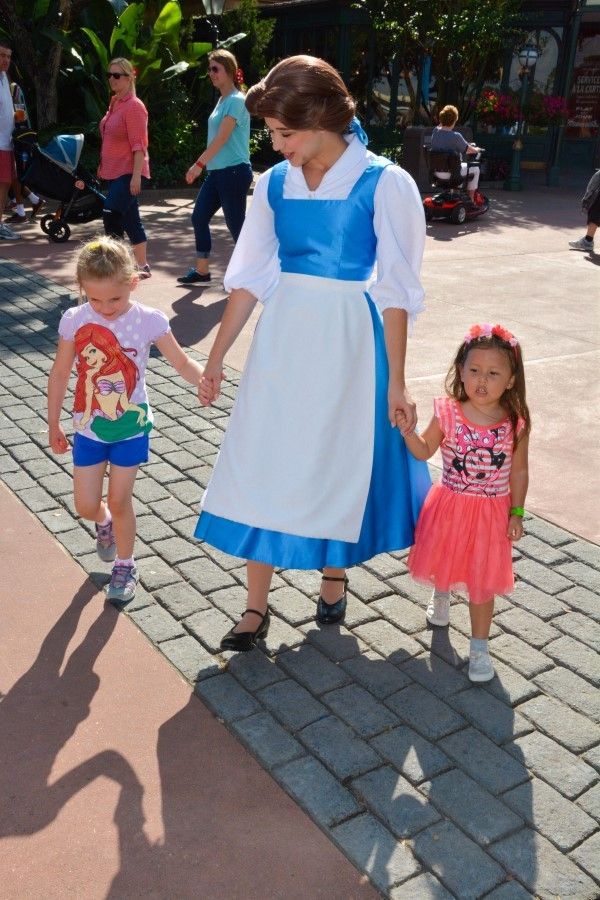 Disney staff got Z and another little girl to escort Belle to sign autographs! AWESOME!!!

Ziana thought it was time for reading time

Of course I had to take a photo with my idol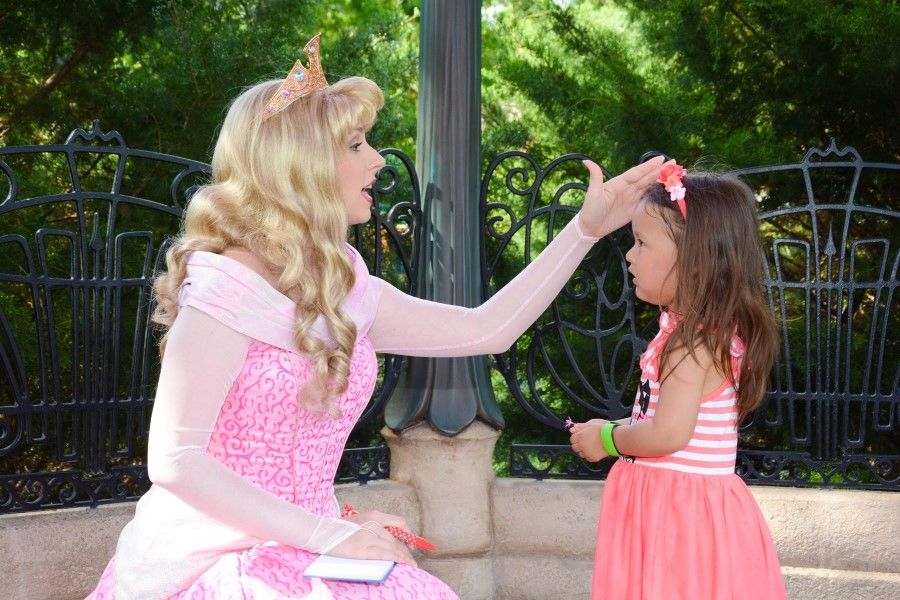 Me and my boyfriend had no idea who this was because they called her Aurora. We didn't know Sleeping Beauty had a real name lol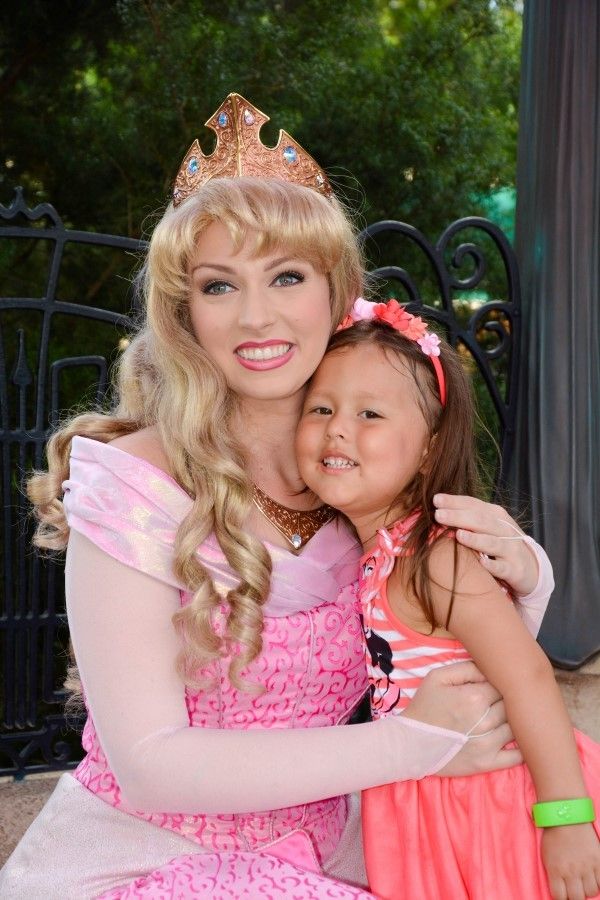 Oh hey girl!

I'm not sure why this kid had to take out her Captain Hook hand, but she did–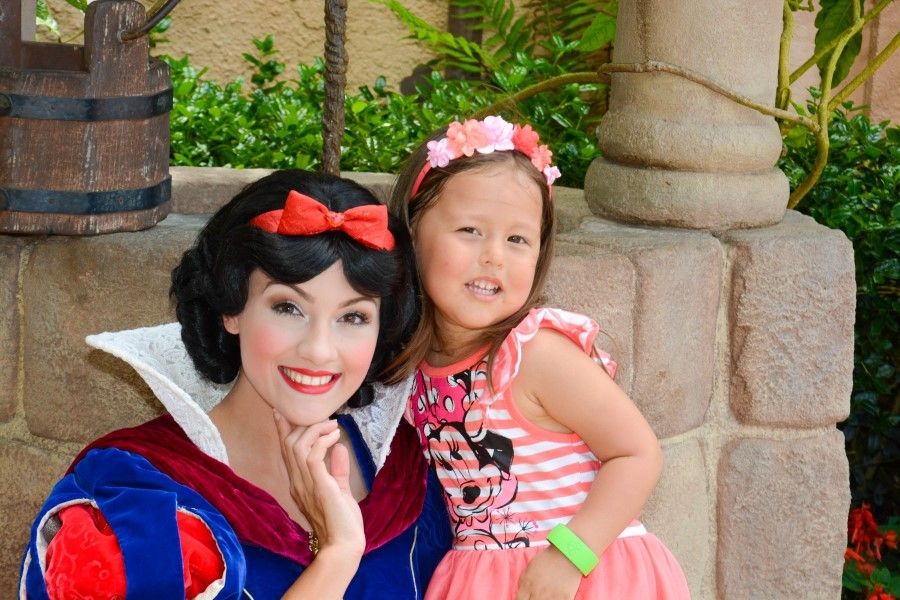 Ziana wanted nothing to do with Jasmine or Aladdin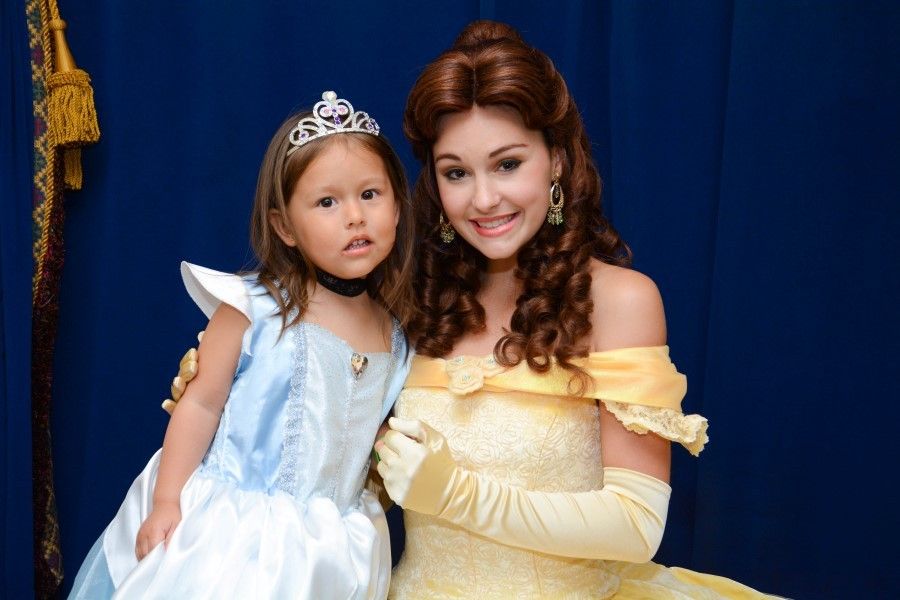 The night ended with a Princess dinner and the fabulous Belle was there to greet everyone

And heck yes I was going to take another picture with Belle!!!!