I've been a dedicated
Vicks
user since I was a little girl. I'm not sure if it was only my family or a particular group of people, but we grew up on Vicks VapoRub for everything; headaches, cold, stuffy nose, you name it we probably whipped out that tub of VapoRub and slapped some on. Even when we had colds we would buy Nyquil to get us through those rough days. Vicks is just a trusted brand that has never let us down. Just last year when we were having nasal congestion in our stuffy rooms we purchased a 'cool mist humidifier' and loved how quietly it released cool mist into the air with their menthol scent; which by the way you don't have to have.
Last week I was able to attend an event by Vicks where they displayed a few of their newest products. First up was the Vicks SmartTemp Thermometer. I remember when Ziana was a baby and had developed a cold, keeping track of her temperature on a hourly/daily basis was difficult. The new SmartTemp thermometer uses Bluetooth technology with a free App to take and store temperatures for the entire family right on your smart device.
– Each family creates a profile in the App
– You could use the thermometer, orally, under the arm or rectal to take the temperature
– Screen wil change color if a fever is detected
– Export via email the history
– Set up medicine reminders
For $24.99 that's a pretty great price for something that works above and beyond a regular thermometer.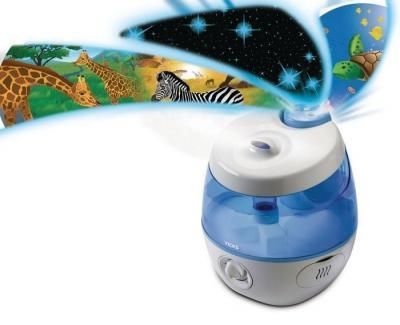 One of Vicks other new products that came out within the recent month was the "Vicks Sweet Dream Humidifier." While the humidifier release cool mist into the air it also has an added feature for your child or even you– gives you a choice of 3 theme projections each with 3 dream inspired images that allow children to fall asleep beneath either a safari, sea or star-filled sky.
– Filter-free and quiet
– Humidity control
– Accepts two Vicks Scent Pads for long-lasting, soothing menthol vapors
– Up to 24-hour operation on a 1 gallon tank
– Auto shut-off when empty
For $59.99 that's not too bad for something that will help relieve nasal and chest congestion throughout the winter months.
Now if you're not into the 'Sweet Dreams Humidifier" you're crazy, but they made something for those crazies who don't want to indulge in a good nights sleep with a safari projector there is a Vicks 'Cool Moisture Humidifier.' It has a simple design, with a quiet operation and invisible mist. The "Cool Moisture' has a self-regulating, evaporative system which adjusts the output to avoid oversaturation. Retailed at $44.99
All products could be purchased at Amazon, Babies R Us, Meijer and other selected stores.