The Secret Life of Pets

The Secret Life of Pets. A story based around a wacky "what if". Because 'what if our pet's lived a separate life when we leave'. I think as pet owners, we all thought about it. Some of us even spied on our pets to see if they did anything. What kind of adventures do our pets get into while we're away?
High atop his New York City apartment lives Max [Louis C.K.]. Max had it all. He was the popular pet in the building; a comfortable bed to sleep in; and the full attention and love of his owner, Katie…that was until Katie brought home a once stray dog name Duke [Eric Stonestreet]. Max and Duke both sought the Alpha role in the home and the love of Katie. Animosity rose so high and spilled over into the dog park where Duke tricked Max into a dangerous journey into the city. Lost and alone, Max and Duke get out numbered by stray cats only to be saved by Snowball [Kevin Hart] and his gang of misfit pets. All good protection comes with a price, a price Max and Duke weren't willing to accept. On the run, both Max and Duke are faced with an even larger journey to return home, but they won't be able to do it alone and without getting along. Rumor made it's way back home and Max's friend from the building all band together, led by Gidget [Jenny Slate] the next door neighbor with a crush on Max. They wouldn't be able to traverse the city without recruiting the help of an old-time dog himself, Pops [Dana Carvey]. It's an adventure where enemies become friends, friend become saviors and a few people along the way find out who they really are. At the end of the day, pets are all just pets. Some are just faced with the misfortune of abandonment, but they're not lesser than anyone else.
After watching the film I was then given the opportunity to attend a press junket, which is just fancy for interviewing some of the cast like; Eric Stonestreet, Lake Bell and Kevin Hart. When we watch a film sometimes we know who the actor is behind the character and other times you just have no idea. It was great to put not only a face, but a story behind the characters we've just met.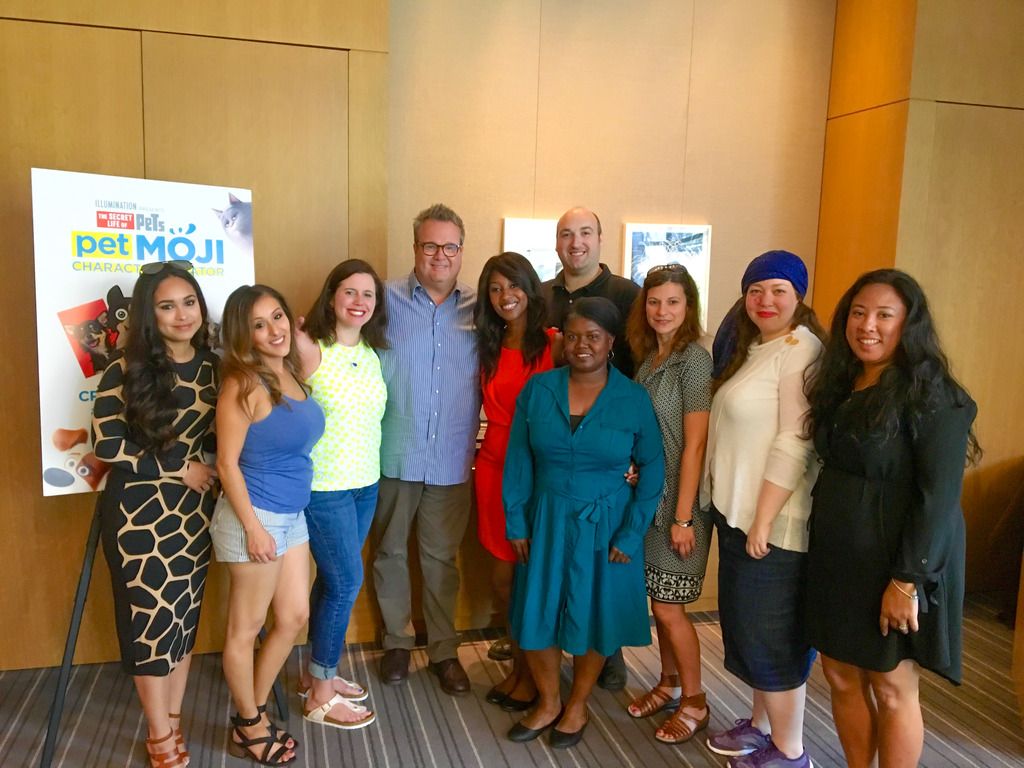 First up was Eric Stonestreet– the lovable Cameron Tucker on Modern Family. I had the first question which was' if he related at all to his character.' Eric plays Duke a semi-bully of a dog who was taken in. Eric responded that he did– he grew up around animals living in Kansas and with respect to Duke who plays a "tough guy" or a "bully" you wonder why he is the way he is. Like many of us we put up a front of being someone we aren't to protect ourselves from getting hurt.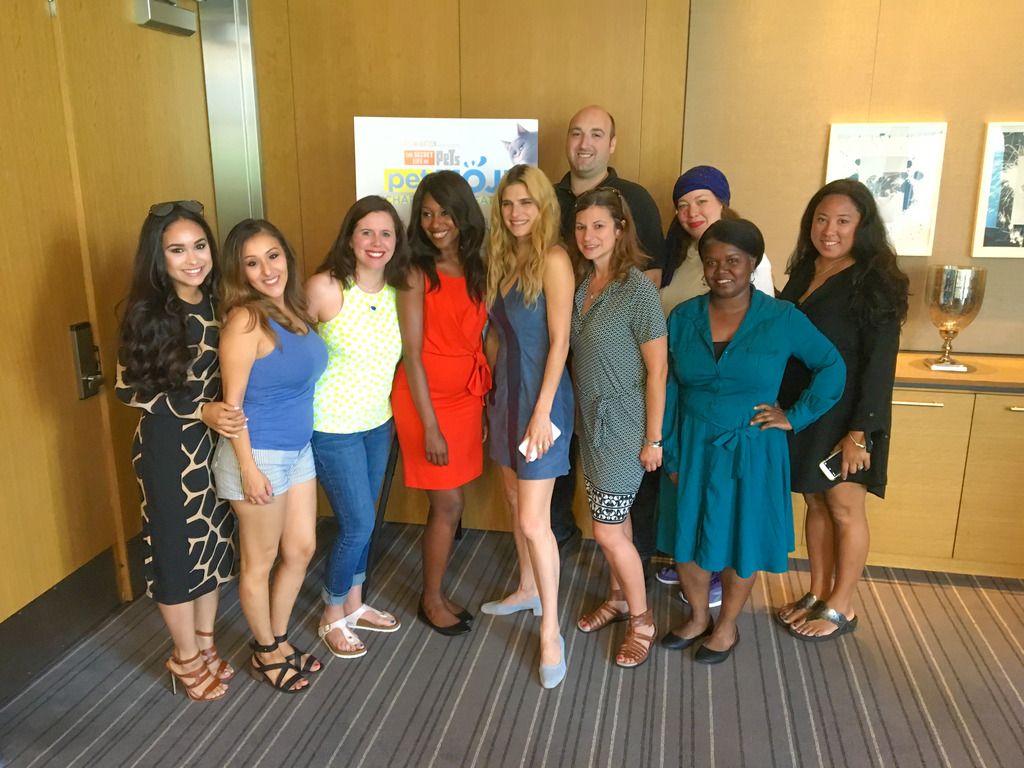 Lake Bell who plays Chloe the cat may have given us the answer many of us dog-lovers have always wondered, why be a cat owner? Having been a dog owner I never understood the intrigue of owning a cat, why? What's the appeal? Chloe played a cat so I suppose to understand the character she played she decided to ask her friends who were cat-owners why they decided on getting a cat– they're complicated, they're like complex creatures, and women are complicated,
in a beautiful, complex measure. Makes sense and I'm on board with the answer!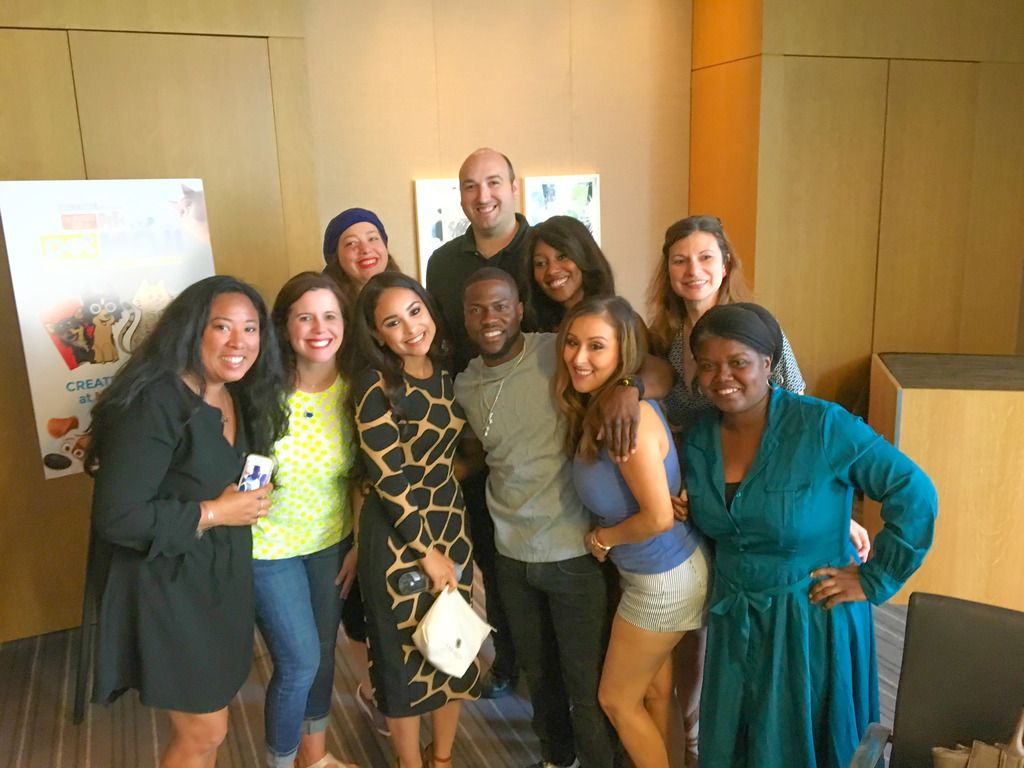 Next up was Kevin Hart who when you see the film tomorrow July 8th you might chuckle since he plays a bunny! When presented with the role Kevin was told they wanted him to play the villain and he was loving the idea– that was until he saw the picture of a cute bunny who had watery eyes. The next picture he was shown it had the bunny grabbing his ears, and his teeth were out. Kevin loved it and jumped at the chance to be on board with the film.
Illumination Entertainment did an amazing job capturing the expression and character all throughout the cast of canines, feline and other various pets. From recreating Kevin Harts over the top, expressive personality into this tiny little bunny rabbit to writing the corky lines of proud pets and what they might react to while in the company of their owners. Although the movie serves no obvious meaning, it was enjoyable just to live for that short time in the mind of what our pets may or may not get into while were away. It may not be an imaginative story for the adults, but I sure know my daughter loved imagining that pets really did talk and scale the city on their own adventures just like us.
Also, don't forget to download the new PetMOJI app to create an emoji of your favorite furry friend! Currently available on iOS, the app features sticker packs and a custom keyboard. Here's one of my dog, Chi-chi–