A Girl and her Trench Coat
Must have coats to own
I love coats, blazers, vests– anything that goes over an outfit. Simply because they transform your whole outfit from a rather simple white tee/jeans (my fave go-to) to a well put together look that seems so effortlessly. I did a video a few months ago, "My Winter Coat Collection" where I showcased my coat collection and what I believed are some coats you should have in your closet. Definitely watch that so you can start getting ideas for this years winter.
My new coat
Fast forward a few months, a coat here and there and now I've got my trench coat! I always wanted a trench coat, but never got one because of it's fit. When you're petite finding clothes to fit your frame is a mission and thankfully there are brands that help us shorty's in that department, but still many haven't caved in catering to us. For instance my new trench coat! The boyfriend actually saw it at H&M and decided to hook me up. Although he got the wrong size– I'm an 8! The boobs make me an 8! He was able to exchange it and thankfully they still had my size.
The trench coat I got (this one) was the traditional one with notch lapels and a yoke in the front and back (the big horizontal flaps). It isn't too long in length, but is however a a bit big on me. I was going to let that deter my decision in keeping it.
Style it many ways
There's many ways to wear it– buttoned up all the way, tie a knot with the belt, don't wear the belt, keep the coat on the shoulders only and my way— cuff the sleeves up. There's no one rule on how to wear anything that includes your trench coat. With this look I wore the sleeves cuffed up and not in any particular way. Also when the weather gets chilly I plan on cuffing the sleeves inward towards the belted part of the sleeve because it is a tad bit long on my hands and that's okay too! Or I can simply get them tailored at the cleaners for $35.
Shop the look
First trench is the one I got and the other two are different styles-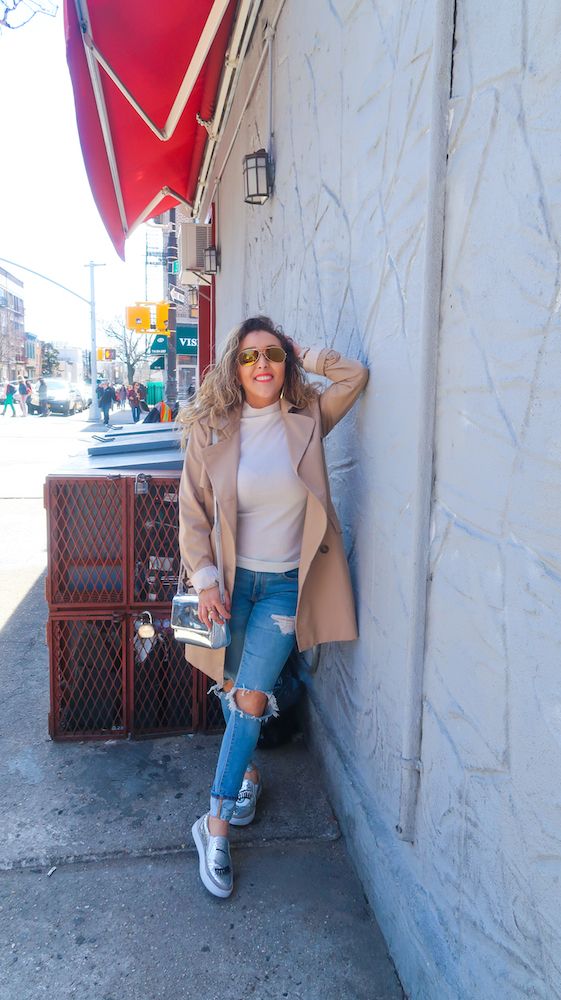 | Shirt: H&M | Jeans: American Eagle | Shoes: Shein | Purse: Forever 21 |