4 Delicious Healthy Smoothies
You seen me around Instagram drinking smoothies every morning and some might think "yum" others might think "gross" and I don't blame you. I once was the kind of gal who hated smoothies and the only reason I did was because my mom made them taste disgusting! Both my dad and mom would add a bunch of healthy crap into a blender and that was it– no milk, yogurt, honey or cinnamon to sweeten it up a bit. NOTHING. So, I figured all smoothies tasted that gross and would never have one, until the boyfriend shoved it down my throat — unwillingly! AND MY MY MY… the flavors of the fruits mixed with drizzled sweetness all in the mix was the definition of food porn. You have to try them because if I actually liked them you know it has to be good!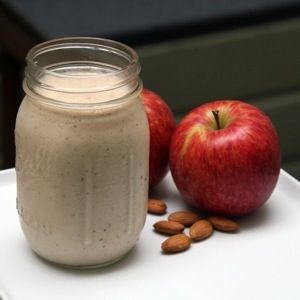 I started from that day on with a bit of an obsession for smoothies– I refused to try green smoothies and stuck to my guns for awhile. Baby steps lady and gents! When I got on the
smoothie diet
I was introduced to even more smoothies in order to loose weight and some were great– some so disgusting I could've dropped the whole smoothie diet. From those three smoothies there was one that I continued to drink, which is the apple-banana smoothie
INGREDIENTS:
– 5 raw almonds
– 1 red apple
– 1 banana
– 3/4 cup nonfat Greek yogurt
– 1/2 cup nonfat milk
– 1/4 teaspoon cinnamon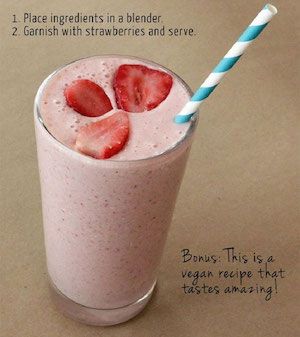 PHOTO & SMOOTHIE FROM GLITTER AND BUBBLES
My next go to was one I found on Pinterest. I never been fond of fruits and veggies, I don't eat them a lone, but strawberries was quickly becoming a favorite so when I saw this "Strawberry Oatmeal Smoothie" I decided why not. Also, I should mention I never ate oats so this was going to be different! I don't use vanilla extract or sugar instead I drizzle it with some organic honey or agave and boom– still amazing!
INGREDIENTS:
– 1/2 Cup Rolled Oats
– 1 Banana
– 1/2 Teaspoon Vanilla Extract
– 1 Cup Soy Milk
– 14 Frozen Strawberries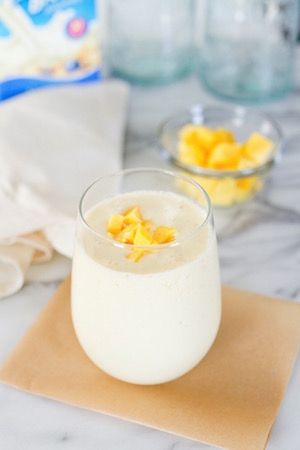 PHOTO AND SMOOTHIE FROM EATING BIRD FOOD
This "Mango Smoothie" was interesting to me because it took only three-ingredients and I like easy! I didn't want to purchase so man ingredients for something I may not like– like mangos. Never was a fan of it. Well, surprise, surprise, turns out I like mangos and it was delicious. Super creamy and just the right amount of sweetness-
INGREDIENTS:
– 1 cup frozen mango chunks
– ½ cup Greek yogurt
– 1 cup Almond Breeze Unsweetened Vanilla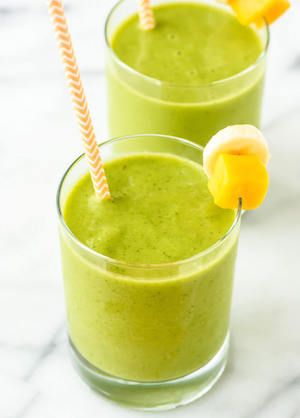 PHOTO AND SMOOTHIE FROM WELL PLATED
The last smoothie I tried was one that I was eyeing on Pinterest for awhile and kept in my Pinterest board for a few weeks until I finally gave in. The reason I was skeptical was because it had mangos and spinach! Who drinks spinach?! I got my bulks at BJs and tried this 4-ingredient "Mango Green Smoothie". Although the spinach isn't pungent you can taste the spinach a bit, just make sure you use the exact amount indicated to not make it a full on spinach smoothie.

INGREDIENTS:
– 1 1/2 cups frozen mango pieces
– 1 ripe banana, cut into chunks
– 1 cup packed baby spinach leaves
– 3/4 cup Almond Breeze Unsweetened Vanilla

WHICH WILL YOU TRY? DO YOU HAVE ANY SMOOTHIES TO SHARE?