When we first moved into our apartment, a one bedroom, I refused to dress it up in curtains, shelves, frames, flowers and all the goodness that comes form the home decor department because we were not going to stay there long. Well, four years later we were till there and hated being home. So when we moved into the two-bedroom back in August of last year, I said we were going to deck out all our rooms; paint, decorative accents, wall decor, curtains and all that home decor goodness.
We had rooms appointed to us– he would take control of a specific room and the other had little to no say to what went in that room, our vision was our own and we had to let it be. The kitchen was a collaborative effort, living room was to be under his control and I took the bedrooms. I love color and if it were up to me we would live in a 'Skittles' house, as my boyfriend calls it, bright colors everywhere from the curtains to the bed covers to the walls. I've been wanting blue walls for some time now, so I just went for it. I decided that the blue walls would look great with silver and gold accents throughout the room. The first purchase I made in the bedroom transformation were the bed-covers. Overstock has been one of my favorite online places to shop at and I knew when I laid my eyes on this Echo Design Kamala Cotton 4-piece Comforter Set priced at $189.99 I just knew I had to get it. A bit pricey, but this is something that will be used all the time so it was okay.
Next came the details of the bedroom like pillows, curtains and whatever else mixed in well with what was going on with the goodness of the bedroom. One of my other favorite stores to shop at is TJ Maxx just call me a Maxxinista! I decided to take my mother along for the ride, because mother knows best and because she was an interior designer in her past life, I swear it. The gold/white throw-pillow was found first and I threw that baby in the cart, the next two sequined throw-pillows were found hidden on a shelf and it was just the perfect accomplice to go with the feel of the room. All pillows were about $20 a piece.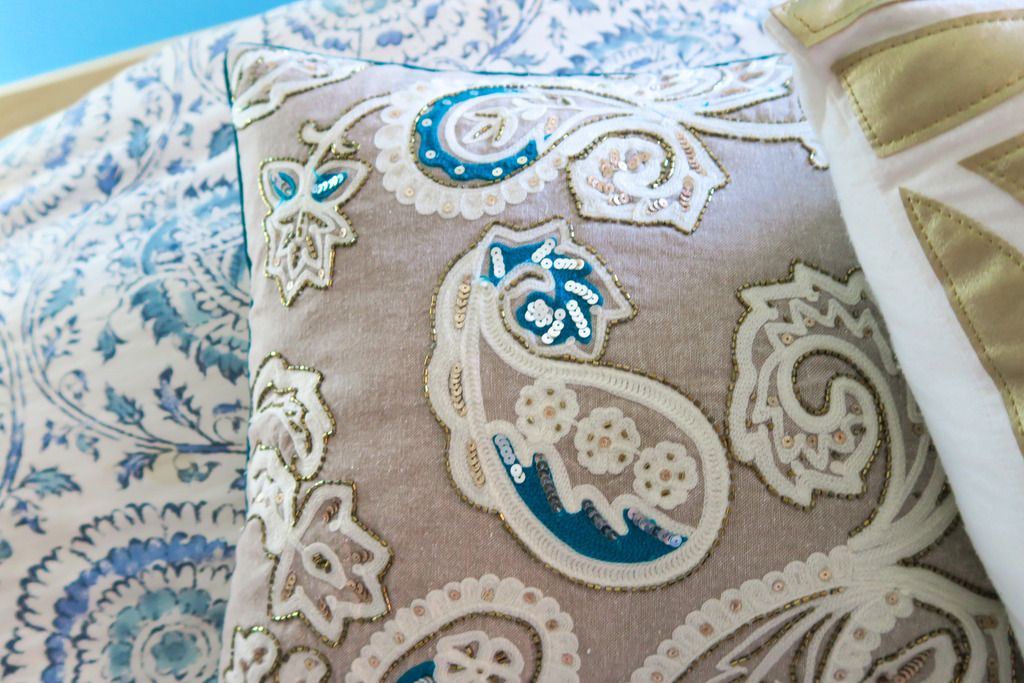 Next were curtains, I knew I didn't want a plain color with nothing special to it. It had to have something special to it so these silver curtains with hints of sparkles were just my thing. Two long panels for each window would work great and for $30 a pair it was perfection.
Lastly, what makes a great room stand out is all the wall decor or decorative accents. I love picture frames, I am somewhat of a collector and you know why I say this if you follow our daily Youtube adventures. I knew I wanted three picture frames above our bed, that was the only vision I had. There wasn't three of the same picture frames, but why did they have to be the same? The more different, the better. I knew I still wanted to go with the silver/gold metallic feel and found these gorgeous picture frames, two silver frames which would hold each picture of the kids and then a gold picture frame which would hold a picture of us. I know, there still isn't a picture in there of my little lad, but a picture will soon fill that spot. Price for each frame was $5.
All my furniture from the bed frame, lamps and night stands were pieces I had in my old bedroom. I saw no need to ever buy a new set because if it ain't broke why change it? Plus, they went well with my vision. Ikea
The lamp covers I originally had were brown and I hated them so I switched them out for white ones which would compliment the room nicely. The actually lamp color was green, but you can't tell that it's green so much unless in light and if you do see it I saw they 're the stems of a flower ;P