**Boots were gifted to me from Famous Footwear. Clutch was gifted to me from Accessorize. All opinions are my own and are honest**
Last year the craze was all about the peep toe booties, a boot with the heel and toes exposed, just in case you were wondering. They're great to add to your summer wardrobe since it has the heel and toes exposed it won't over heat your feet and it won't look awkward. It honestly gives your summer wardrobe a kick-ass vibe. They'll also transition perfectly into the fall with your shorts and wearing a cardigan or sweater over it giving the look an effortless stylish vibe.
When it comes to fashion I get that you sometimes have to waste– invest in good pieces which can go for a lot, but I like pieces that are both fashionable and gentle on my pockets. Which is why I've always shopped at Famous Footwear; they have hundreds of styles, something for your whole family, and price ranges for all pockets. I decided to get the Kami Peep Toe Booties in both the color oatmeal (seen in pictures) and black as you saw in my last post.
Three things I loved about these booties; price point ($54.99), subtle details like the zipper and wood block heel, then there's the height of the heel ( 3 1/4 inch). I use to be able to walk in 6 inch heels– on a good day, but since having the kids I feel like I'll end up breaking my ankle in anything higher than 4 inches. 1 out of 10, I give the shoes a 7, although they're stylish and affordable, after awhile the shoes do start pressing on my pinky toe. Will I wear them again? Silly question… of course!
Make sure to check out my style video on Friday over on aBetsyVlifeSTYLE to give you more outfit booties inspo!
Also make sure to follow guidelines on this Instagram photo to win $100 gift card from Famous Footwear!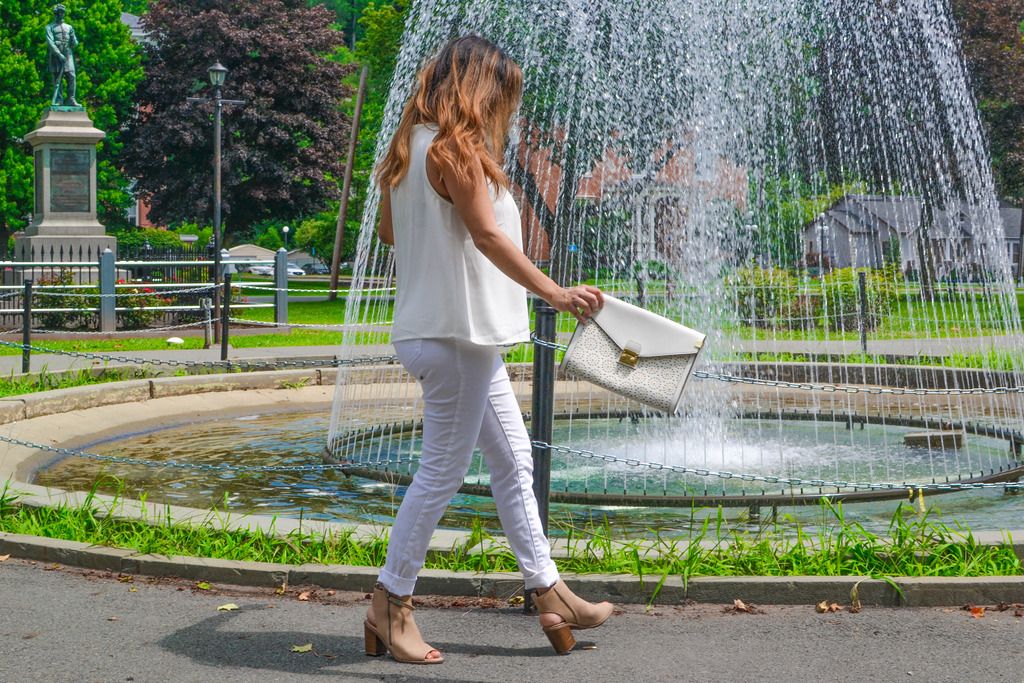 Blouse: Chiffon Blouse from Forever 21
Jeans: Charlotte Russe
Shoes: Kami Peep Toe Booties
Clutch: Accessorize