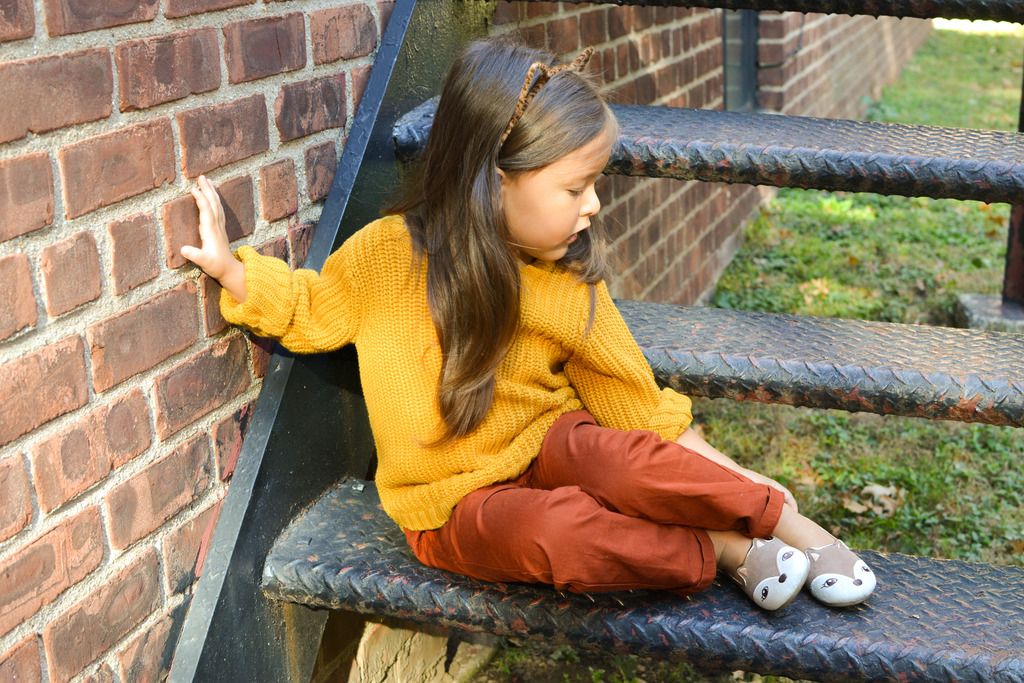 The secret has been out for awhile, I'm officially obsessed with Old Navy's Style of clothing for children! I'm the type of gal when I love a store that's basically the only store I'll shop at and there's no way to get me to shop at other stores. This rang true with Old Navy. I never realized how fashionable and affordable their clothing were for little girls and even boys! I always though the clothing was pricey, but when you actually pay attention their clothing is ALWAYS on sale, 20%-40% off daily online and in store, although in-store at certain locations it's hard to find any of the pieces you see online FYI.
I snagged a few great pieces that were perfect for the fall weather. Knitted sweaters are always in and when their in a tunic style, even better! I spotted this gorgeous Gold Standard sweater for $15 and I couldn't leave the store without it. The extra detail of the rib-knit hem with side slits was my fave. I paired the beautifully knit sweater with a pair of autumn orangey pants to compliment not only the gold sweater, but the fall season. For some reason I couldn't find the pants online, but they were reasonably priced at $10.
Okay,now these shoes I give daddy all the credit only because I hadn't spotted them first. These adorable little Critter Loafers were to hard to pass up and what was even better is that they went perfect with the outfit we weren't even trying to pair. If you aren't into the beige fox flats you may like thier black flats in KittyCat. @$13
Have you styled your wardrobe Old Navy style?