*I was given the BabyNes machine to review. All opinions are my own and honest.*

It's time to bring your new bundle of joy home– cuddle and love it all day, then you remember he has to eat! It isn't just about plopping your boob out on demand – imagine waking up every two hours with newborns just to feed them. I remember when I had my first, Ziana, I was lucky
enough to not have to work, but it still was extremely tiring to have to do throughout the day.
Now that my second is due in February, it's going to double the exhaustion because not only will I have to make sure he's being fed constantly, I'll have a barely napping toddler (3 years old) to watch over as well. I came to the conclusion that what might work best for me is to breastfeed about 85% of the time and use formula 15% of the time, particularly during those early-morning-crack-of-dawn feedings, to give myself as much rest as possible.
Now I know many of you are weary of reading about formulas and I am too, but I was thankful when I was given the opportunity to review Gerber's new BabyNes Formulas in pods and the new Machine ($249).. It's like a Keurig for babies! What makes it even cooler is that it's a Wi-fi connected machine. Imagine relaxing in bed, prompting the machine to make your baby's bottle, then quickly getting the bottle before the baby's loud wails flood the whole house. Yes, please!
What's great is that Gerber isn't saying "drop breastfeeding and just buy the BabyNes machine." Instead, Gerber recommends breastfeeding as a baby's main source of nutrition, with the BabyNes used in conjunction if you need to supplement.
Something I wasn't aware of: a woman's breast milk composition changes month after month to follow baby's evolving nutritional needs. With this in mind, Gerber has created a system with six different stages of single-serve formulas for our growing babies from birth until age 3.
BabyNes formulas are made with 100% whey protein partially hydrolyzed (broken down); proteins like those found in breast milk that are easy for baby tummies to digest. The formulas also include Bifidus BL- a probiotic similar to those found in breast milk- which helps your baby's body fight off harmful bacteria and make the transition from breast milk, which is great because as many of you may know, weaning a child off from breast milk is a task in and of itself.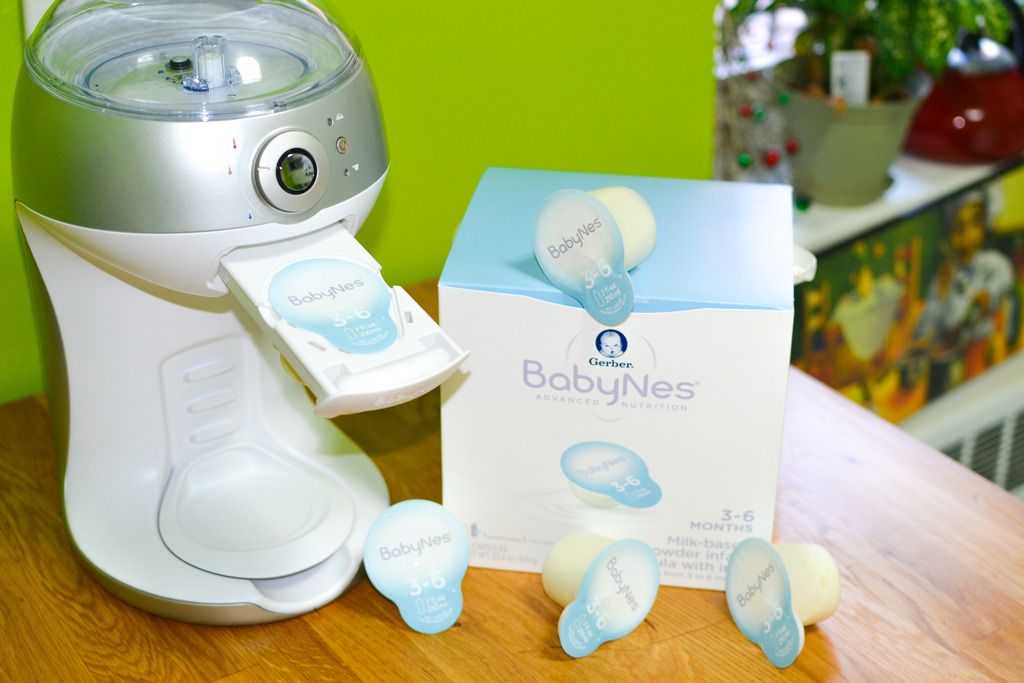 I test-drove the BabyNes to see how easy it would be to function. Because let's face it, you can read about how great a product is, but setting it up and using it on your own is another story.I am pleased to report that the BabyNes was extremely easy to set up and use. Here are some of the highlights:
– Only four parts, including the machine to put together
– No need to put the baby down while preparing their bottle – you can easily work the system one-handed
– Bottles can be made at any temperature between 77°F and 104°F
– No lumpy formula
– Formula never comes in contact with the machine
– No BPA
To further prove how convenient and safe the machine is, I made a minute and a half video:

I loved that I didn't have to wait around for the water to heat up. I could've had my 3-year-old set the temperature and press the start button! Within a minute the bottle is ready for your baby to drink– with no lumps. Having tried out the BabyNes machine myself, I can honestly say it is worth the purchase. The two selling points for me is that it's as close as possible to our breast milk and the fact that it takes a mere minute to make a bottle is just everything I need to be happy.
I'm always happy to share new finds and review them for you, but I also love to give you guys a chance to win what I'm reviewing. (Drum-roll) Enter below to win your own BabyNes machine PLUS a one month supply of pods! Enter below and share the greatness–
Gerber recommends breastfeeding as the best start in life.
This post is sponsored by BabyNes.