Rain, rain, go away! Apparently, it's spring time here in NYC, but one would never know because this weather has been giving us chills of winter slush. Every week it's been cold and rainy, which got me thinking– I have nothing cute to wear in the rain. I know, who wants to be cute when the weather is all crappy, it automatically puts me in a crappy mood. But, I think if one has the perfect rain gear to walk out in, one can automatically turn that crappy mood to a shining grin in a splash.

As I was perusing Pinterest I started to look for something more than just a regular umbrella or a typical raincoat. I wanted style with an affordable price point, because I love to save my "cash-money" as my daughter calls it, but I also have pricier items for those who like to spend more "cash-money." Check out my finds and don't be shy to PIN away and follow me on Pinterest

Happy Splashing!

The most important thing you need for a rainy day is an umbrella, sure you can get your plain/boring umbrella that has one of the sticks broken, but why chose that one? Umbrellas have definitely stepped up their "shading" game making it glamorous and fun to be rained on.

<.TOP LEFT TO RIGHT.> PRICES VARY IN US
Lulu Guinness Birdcage PVC Dome Umbrella $26.67//
Fulton Kensington Umbrella Walking Length – Colour Pop Rose $20.00//
Scalloped Umbrella with a Lacy Flowers and Butterfly Print $19.99//
Lindy Lou Pagoda Umbrella – Purple $14.99
What's a rainy day without boots?! Great rain boots from Target with different price ranges for all pockets…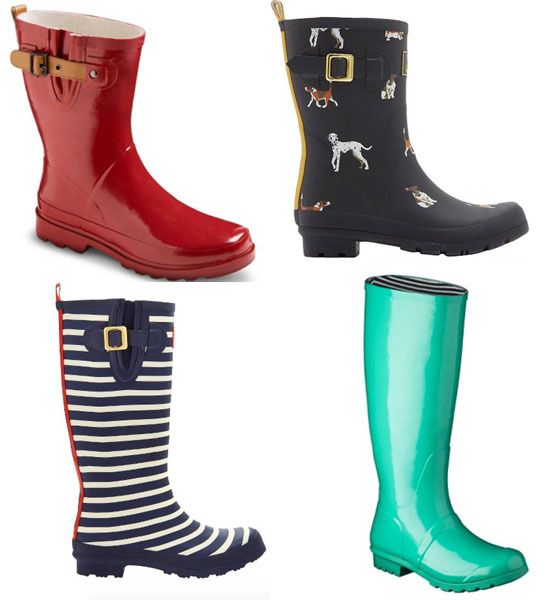 <.TOP LEFT TO RIGHT.>
Women's Premier Short Rain Boots – Red $14.98 – $34.99//
Women's Joules Wellyprint Rain Boots – Multi-Colored $69.99//
Joules Women's Rain Boot – Blue Stripe $22.48 – $74.99//
Women's Classic Knee High Rain Boots $39.99
Raincoats can also be very fun, flirty and stylish. You can go for the classic trench coat in black or beige; it's a timeless piece and goes with anything. Or go for a clear plastic raincoat to still show off all the hard work you put into a stylish outfit. To be honest, my favorite is of course, the one that sticks out the most; the holographic jacket. Take a look at some of my finds, although the ASOS and Nasty Gal raincoats are out of stock, I am crossing my fingers for their restocking!
<.LEFT TO RIGHT.>


Women's Soft Trench Coat – Merona $39.99//
All Clear Plastic Rain Coat $68.60//
Draped Trench Coat $36.99//
The Ragged Priest Hooded Festival Rain Holographic Jacket $60.99
What about rain accessories? I've found some really amazing items that will turn that frown upside down and make the rain even more bearable! I don't know about you, but one of the worst things about being stuck in the rain even with having an umbrella is getting my bag wet– sometimes even drenched. The quality quickly gets ruined and everything in your purse could get wet as well. Well, what do you know some folks decided to make a raincoat for your purse! Your jewelry can be stylish as well, like the cute umbrella and raindrop necklace (don't mind the look of it, I had to erase the background to have a white background). A hat whether it be a fedora, knit hat or baseball cap can also help your hair from getting disastrous. Lastly, as a Youtuber I always have the camera at hand, but when it rains my camera can't handle too many droplets. That's why whether you are a vlogger or not, the GoPro can still be anyone's go to to capture your rainy moments and can be used during water rides FYI.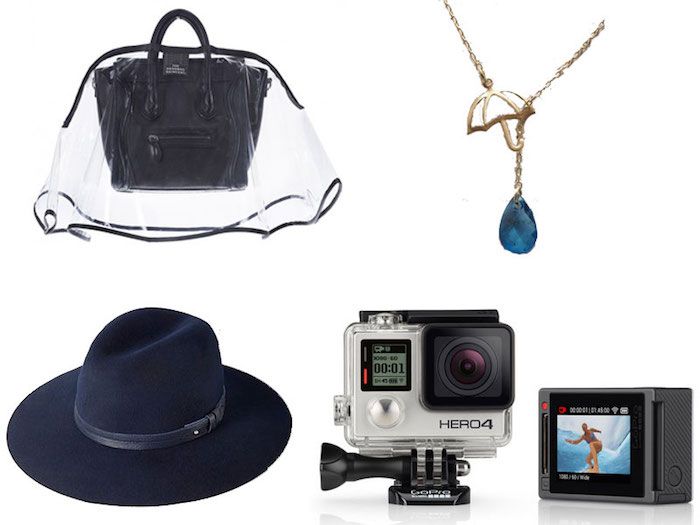 <.TOP LEFT TO RIGHT.>
Handbag Raincoat $25.00 – $30.00//
Umbrella and Raindrop Necklace $15.00//
HERO4 Silver $399.99