*Huge thank you to Visit Philly for the media press pass to the museums in Philadelphia*
I know, AGAIN?! This has now been our third time visiting Philadelphia and we still haven't done it all. The main purpose for this visit was to hit up the homie Benny– or as many of you know him as, Benjamin Franklin. Ever since we borrowed Now & Ben from Gene Barretta from the library a few months ago, Ziana has been obsessed with him and has been wanting to invent. So what better way to emerge her in that environment and become more inspired?
Benjamin Franklin Museum Trip

There are so many amazing museums in Philadelphia, but remember our main purpose was to see everything Benjamin Franklin, which Ziana had no idea about. Our first stop was the Benjamin Franklin Museum and her reaction got me super excited, you watch it on the vlog as well here! As soon as you walk towards the museum you're instantly immersed in the old times of Benjamin Franklin– you have the first post office he created, standing steel structures which outlines Franklin's now vanished house and print shop. The museum explores the life and legacy of Philadelphia's most famous citizen and in our book, greatest inventor ever! Travel the museum and immerse yourself in facts maybe you didn't know about Benjamin Franklin. Did you know that he was an avid chess player or maybe just how severe his gout was- see up close into his carriage that carried him throughout the city. Many of the displays had adorable animations playing out things Franklin said and did, which was better for kids to understand and connect with.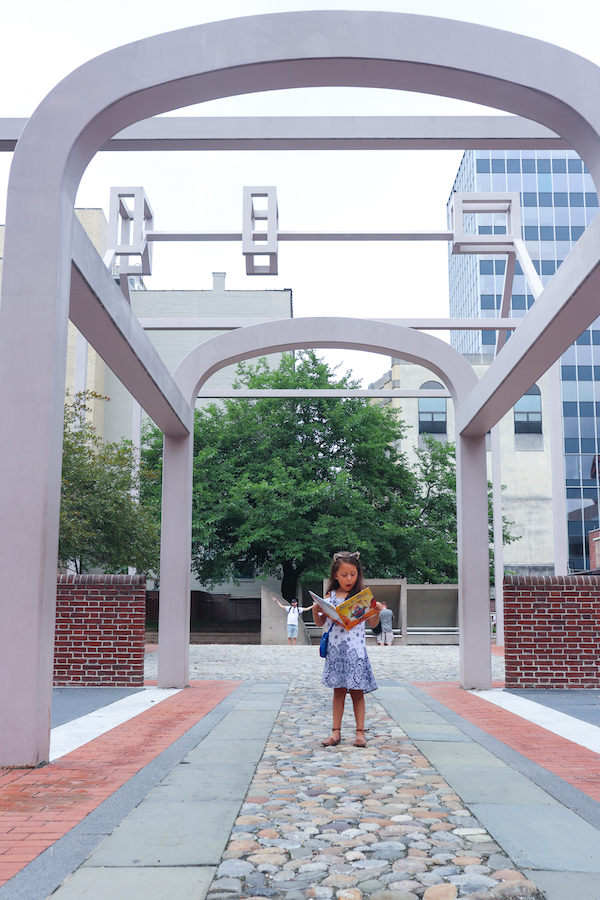 The Franklin Institute

Next stop was the greatest science museum I've ever gone to, The Franklin Institute , which honors Benjamin Franklin and his inventiveness. The entire museum offers interactive fun, highlights including exploring science in disciplines ranging from sports to space. Ziana loved the huge 20-foot tall statue of "Benny" and loved seeing a brain. Like how our brain has all these hemispheres, how it played tricks on us and more. The exhibits are inclusive to all ages, even Gunner was enticed by everything around him. You can catch it on our Youtube channel.
The Betsy Ross House

OMG! BETSY ROSS! We couldn't go to Philadelphia and not visit Betsy Ross' house where the American flag was sewed and presented as our flag. We were able to wander around Betsy's 1740 super tiny house and super tiny staircase that she rented. It's a self-guided tour and as you make your way through the house you bump into Betsy Ross, whose real name was Elizabeth Griscom by the way! Betsy actually talks to guests about the flag and allows you to ask whatever questions you have. Audio guides are also available, including a special version just for kids. I'm so happy we decided to make a visit in this time around because it was definitely worth it. I always enjoy a good interactive and short tour.
Please Touch Museum

Okay, this is every kid's dream, heck it was mine! Why they never had this when I was kid still baffles me. We all know how important it is for children to learn through play. This museum does just that by encouraging children and peaking their curiosity, allowing them to touch everything! Please Touch Museum aims towards bringing together the past, present and future in six interactive exhibit zones across 157,000 square feet, including four areas specifically designed exhibits for children 3 and younger. The museum has a section where you can step into a Philadelphia neighborhood– it has cars, a bus, train, area to assemble a car and a park area where they can make food from a food truck. Another side has a water section called "River Adventures," where children can switch the locks and dams to adjust flow, pump water through pipes and tubes and so much more. There's an indoor tree house, carousel, Alice in Wonderland section, an imagination playground where kids can step into the world of giant blue foam blocks where the possibilities for play are endless. If by any chance you forgot to bring a snack there's a wide range of healthy options in the food court. The entire place promotes health and knowledge. Of course, we documented some of that fun on the vlog here!
Where to eat in Philadelphia?

Now if you've joined us in our last blog posts and seen our last couple trip to Philly you know we love Green Eggs Cafe and you can read about some other spots there. But this time around we decided to add a new spot to our list, Reading Terminal Market.I know how it sounds, who wants to eat at a marketplace? Well, it's the nation's oldest continuously operating farmers' market. Visitors can enjoy eating a wide range of different cuisines— all available from largely locally owned, family-run stands. We chose to grab a seat at Dutch Eating Place, an Amish country breakfast in the middle of a Metropolis. An amazingly intimate, flowing counter with a 'diner-esk' feel. The food is farm fresh, hardy, and affordable. I would recommend this experience to all my friends. Dare to look past the crazy idea of eating inside this bustling terminal place to fully immerse yourself in its' beauty. I'll definitely be going back to visit my favorite stands, plus try something new.
We ended the night eating at… The Franklin Fountain! An idea that two brothers decided they wanted to recreating an old soda fountain, aka an old-school ice-cream parlor. The named it after no other than Benjamin Franklin after one of them was inspired by a marble portrait they saw of him. Take a step back into time and order one of over 20+ ice cream flavors, which include non-dairy and sugar-free ice cream as well. Warning it does get busy, but the ice cream does taste delicious outside sitting under the well lit Philly lights.
Have you ever been? What are your top places to visit? We still need another trip…