*Post sponsored by Lunchbox but all opinions are my own*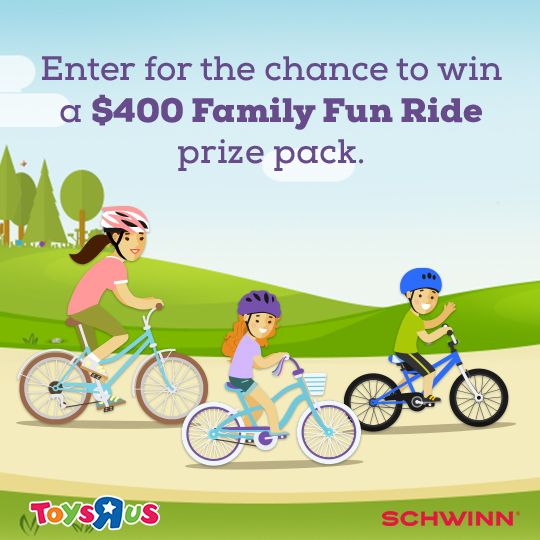 One of the milestones in your child's life will be to teach them how to ride a bike and then watching them taking up the courage to put all they learned into peddling their way to their next milestone in life. When we got Ziana her first set of wheels last year it was not only a memorable time for her, but for the whole family. The look on her face was priceless as she didn't know how exactly how to react. Not only did we have to teach her to ride the bike, but we also had to teach her about the safety of riding one. Schwinn would like to be part of this journey helping you every step of the way. From choosing a bike with a comfortable fit to building confidence by riding as a family.
Established in 1895, Schwinn is the go-to resource for the recreational bike rider. Toys"R"Us has the largest selection of 16" bikes for kids.Now when your child is ready for the bigger leagues of riding a 16″ bike the first major step is to take those training wheels off. Luckily, Schwinn makes it easy to transition your child and adjust to your growing child to fit their your child's proportions by buying a bike with "Schwinn SmartStart."
1- Inspect the bike to make sure everything is safe and comfortable for your child, such as adjusting the seat
2- Practice in an open area with no cars around
3- Wear a helmet
4- They them to balance by removing the training wheels and having them practice balancing with their feet to the ground
5- Allow them to also practice taking strides with their legs by gliding
6- They should also practice steering the handlebar
7- Put the pedals back on, adjust the seat so they can stride and pedal the bike
That's all! The reason these Schwinn SmartStart bikes are great is because the seat is raised to fit a growing child, the distance from the seat to the handle bars increases. This increases the reach distance and will allow the bike to grow with them. So no more having to buy a new bike every year or so. Like all Schwinn bikes, SmartStart bikes have a limited lifetime warranty for as long as you own the bike. The steps are super easy to teach your child and by making this a family activity regularly your child will build the confidence to ride on his own.
Alright, with all that being said there are two Schwinn SmartStart bikes for your son and/or daughter–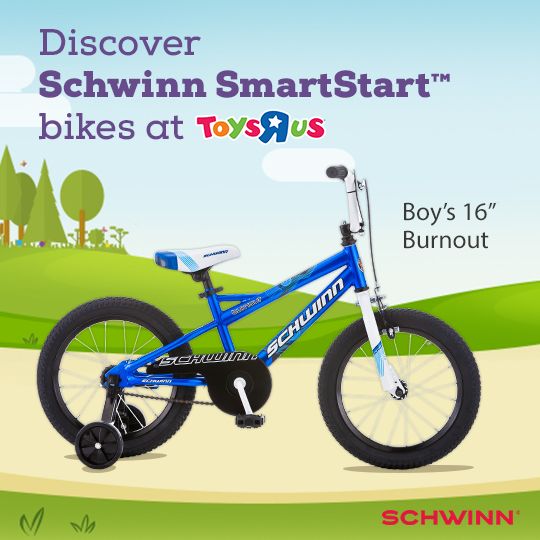 1) The boys 16 Inch Schwinn Burnout Bike
This one is a great choice to get a new rider started on their cycling journey. Not only does it come with colors and graphics that will win them over, but it has hidden benefits that will make it easier for little bodies to pedal and ride. And like mentioned above each Schwinn SmartStart bike is built with a child's proportions in mind.
src="https://i1053.photobucket.com/albums/s462/RetailInfluencer/Schwinn%20SmartStart/Social1_zpsv3j7hxws.jpg" border="0″ alt=" photo Social1_zpsv3j7hxws.jpg"/>
2) The girls' 16 inch Schwinn Jamboree Bike
The single-speed bicycle features a coaster brake for simplicity as your little rider bikes up and down your driveway. Coordinating fenders, streamers and classic Schwinn styling provide a cute look, and the handlebar basket lets your youngster bring her favorite toys along for the ride. Recommended height: 38″ – 48″ tall.
Now it's your turn to enter in a chance to win a family fun ride prize pack worth $400–
Schwinn SmartStart Family Ride Sweepstakes